Group menues for all occasions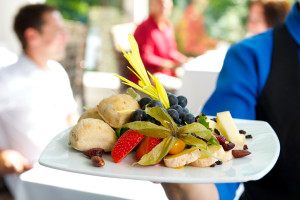 Our wide selection of group menus is designed to suit the various types of groups and associations who stay with us, including corporate meetings, weddings, funerals or any other type of event.
Whether your preference is a buffet style presentation or a 3, 4 or 5 service table d'hôte, our kitchen staff will offer you an exceptional fine dining experience sure to meet all your expectations, your allotted time for eating, any food allergies or any other special request, all prepared with local food and a modern twist!
Menus available
Breakfast menu
Lunch menu
Dinner menu
We can also offer various options for birthdays, gatherings with a personalized theme and more.
Contact us for more details!